Had enough of the real world? Looking for a taste of something a little different? Check out these 17 fantastic fairytale destinations in Europe.
1. Eltz Castle
Eltz Castle is located in the municipality of Wierschem in Germany. This fabulous medieval castle has actually belonged to a single family since the 1100s. Historians report that this is quite rare in Europe. It is one of the only castles located on the Rhine River that has not ever been destroyed.
2. Mont-Saint-Michel
Nestled within the picturesque island community of Normandy in France, the famous Mont-Saint-Michel survived a century of tumultuous wars. This famous erstwhile abode of Saint Michel's ancient monastery is surrounded by water and is surrounded by huge walls once used for strategic defense purposes. Take a guided tour of this historic UNESCO World Heritage Site.
3. Tossa de Mar
Tossa de Mar is a magical municipality found in Catalonia, Spain. Specifically, it is situated on the coast of Costa Brava, roughly 103 kilometers north of the city of Barcelona. It features beautiful beaches complete with fine sand and blue waters. This lovely locale is highlighted by a verdant forest and stolid, medieval walls too.
4. Dark Hedges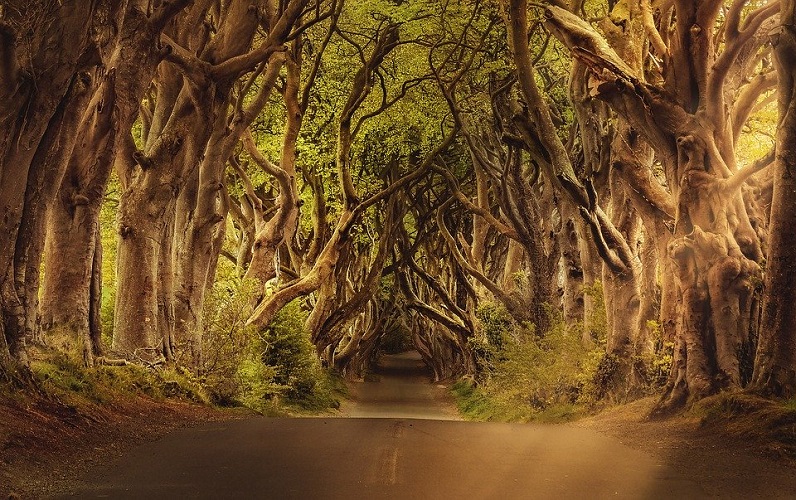 Distinctive Dark Hedges is said by some travelers to be fascinating. This exceptionally atmospheric tunnel of sturdy beech trees is situated on Bregagh Road between the villages of Stranocum and Armoy in Ireland's County Antrim. A great place for nature lovers, it became famous following its use in the hit HBO TV series "Game of Thrones."
5. Colmar
Known to some as "Little Venice", Colmar is a fairytale commune and city in France. The best time to visit is debatable. Many travelers come here in winter to experience the charms of its traditional Christmas market. Others prefer to visit in spring to participate in its seasonal celebration and browse the numerous spring markets.
6. Neuschwanstein Castle
The elegant Neuschwanstein Castle is one of Europe's most visited. It is nestled in Bavaria's stunning Alps in Germany. Erected in the 1800s, it's not technically a medieval castle. Still has a majestic, magical appeal. Currently coupled with world-class technology, this popular place presently plays host to more than 1 million travelers every year.
7. Rothenburg-ob-der-Tauber
The picture-perfect, postcard destination, Rothenburg ob der Tauber can be found in Germany. This village is ensconced in the Franconia region of Bavaria. You can visit this quaint village almost any time. Frequent flyers favor visiting this spot during the month of December. For it's only then that you can take in the town's authentic Christmas market.
8. Bled
Found in Slovenia between the Karavanke and the Julian Alps' highest peaks, Bled is the country's most popular resort town. This little fairytale village of approximately 9000 residents. You really must see lovely Lake Bled, and the popular Vintgar Gorge too. Feeling adventurous? Brave the 1893-constructed 5,249-foot wooden walkway that crosses the rushing Radovna River.
9. Riquewihr
Riquewihr can be found about 13 kilometers from Colmar, in Grand Est, France. Having escaped the bombings during WW II, it has not changed much since the 1500s. Thus, this medieval city is quite picturesque. This magical destination is perfect for history buffs. It also includes scenic landscapes and vineyards and noteworthy eateries for foodies.
10. The Castle in Love with the Wind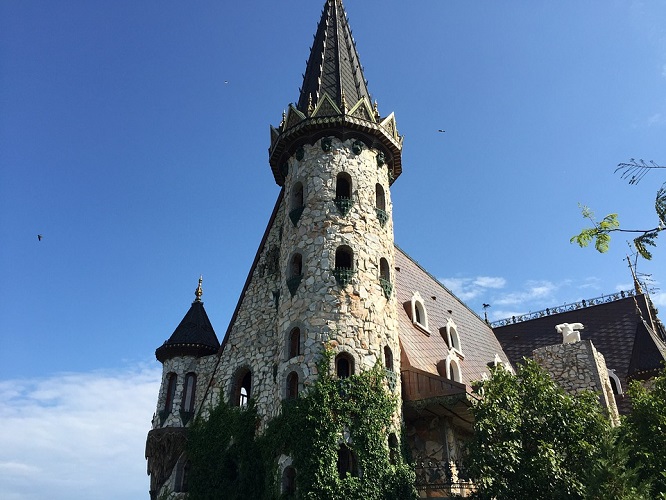 You'll discover the famous Castle of Ravadinovo, also known as the "Castle in Love with the Wind", in the old seaside village of Sozopol in the Republic of Bulgaria. Some claim that it's "one of the most beautiful castles" in all of Europe. It certainly is one of Bulgaria's most visited monuments.
11. The Orcus Mouth
The awesome Orcus Mouth is ensconced in the great Gardens of Bomarzo in the Viterbo province in Italy. This attraction may help to remind visitors that sometimes true fairy tales can be frightening. These gardens are the centerpiece of a park created in the 1500s. In the 1950s, artist Salvatore Dali directed a film about it.
12. The Popeye Village
Situated in the beautiful town of Mellieha on the isle of Malta, Popeye Village is both vibrant and ruggedly beautiful. The numerous, small, colorful houses in the village were created especially for shooting the musical Popeye. While the Robin Williams' movie was not a big hit, the well-preserved village itself has become a popular tourist spot.
13. Prague
Prague, the capital city of the Czech Republic, is another famous fairytale destination worth "Czeching" out. It features a unique atmosphere complete with medieval streets and Prague Castle complex too. Visit anytime you can as it's always inexpensive and, if you're healthy, it's walkable too. The food and drink are cheap and hearty as well.
14. Kaysersberg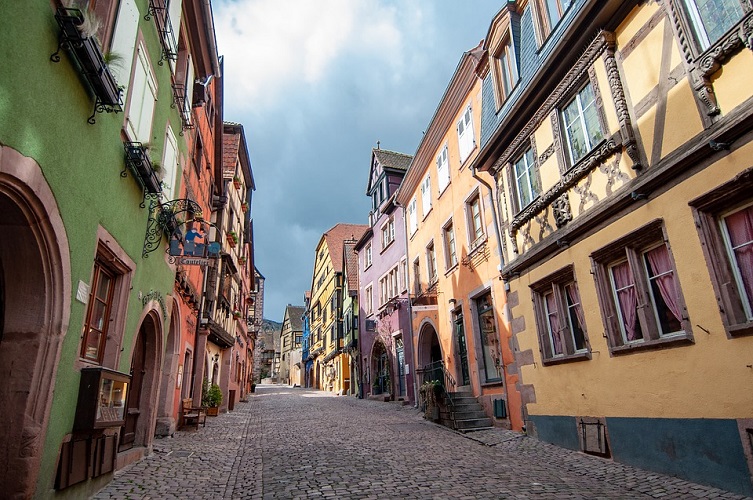 Kaysersberg is a small, beautiful town and former commune in Alsace in Northeastern France only 12 kilometers from Colmar. In English. Kaysersberg means the emperor's mountain. History buffs will like the towering fortress that symbolizes both Kayersberg's warlike past and its strategic importance. Shopaholics should visit during December so as not to miss the famous Christmas market here.
15. Alcázar of Segovia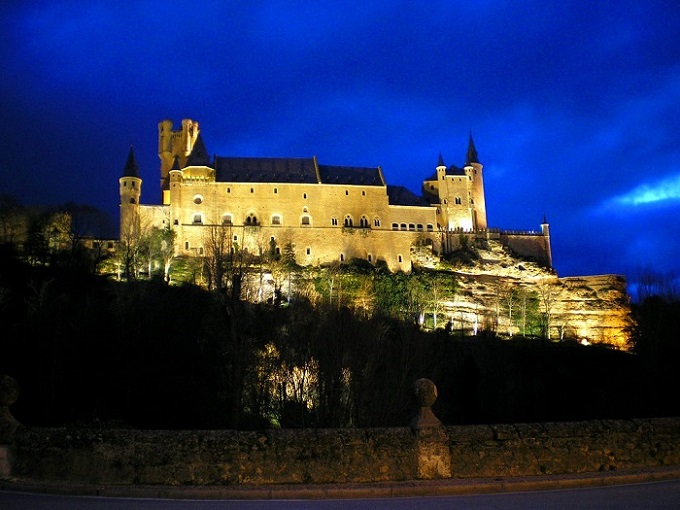 Also known as Segovia Castle, this stone stronghold can be found in the city of Segovia in Spain. This stunning castle-palace is perched high up on a crag close to the neighboring Guadarrama mountains. It's distinctly shaped like the bow of an old ship. It was one of the structures that inspired Walt Disney's Cinderella Castle.
16. Isola Bella
Located in southwestern Italy, Tropea is reportedly a real paradise. Here visitors can enjoy the blue water and pleasant, warm climate. It features fairytale-like narrow streets and an olden atmosphere to boot. Be sure you plan your trip so you can see the Aeolian or Stromboli Islands as well.
17. Sintra
Once the home to Portugal's numerous monarchs, the town of Sintra is a quick train ride out of Lisbon. See the Castle of the Moors, the National Palace of Pena, and the Palace of Regaleira. Study the historic architecture of the buildings. Take a romantic stroll through the woods and too.